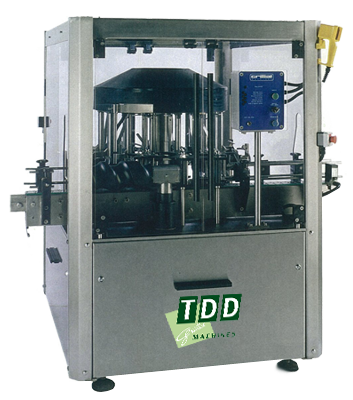 Automatic liquor blender for
dosaged bottles MLR16
Principe de fonctionnement :
Operating principle:
At the input, the bottles are spaced by means of a worm-screw, and spacing stars ensure a regular and smooth transfer of the bottles to the carrousel and their return to the conveyor.
On the 16-step carrousel, the bottles are held by rotating grabbers with lower and upper stoppers, the bottles can not fall off.
To ensure a full blending of the liquor with the wine, the bottle holders are rotated and tilted four times by mobile cams on the guide bars.
Construction:
Heavy-duty high-quality stainless steel lower frame, work surface and housing, with upper part made of translucent polycarbonate protection, this blender, designed and built for long-lasting performance, is very reliable and requires little maintenance.
The drive units and gears are located in the lower frame, with wide side openings protected by removable housings for easy access.
Technical data:
Basic machine designed for standard 1/1 bottles: 1/1
Optional 1/2 and special bottles adaptation.
Maximum rate 2,500 Bottles/Hour
Motor 0,75 kW
Voltage 230/240 volts 50 Hz
Dimensions: Length 1,400 mm / Width 1,215 mm
Conveyor length 2,000mm
Weight 500 Kg
Electrical equipment with control panel built in the protection housing. Safety as per current CE standards.