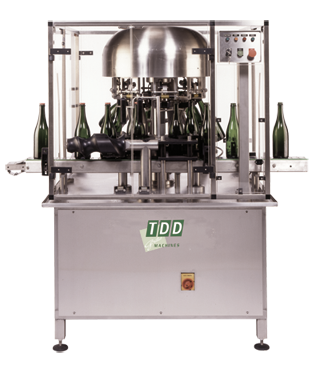 Disgorging Machine Type
DR 8 & DR 12
Bottles are selected by a screw and introduced in the rotary tournament. Bottles are taken (grabed) by the neck and are leaded in order to reach in inclined position. Every bottle holder is equipped with an adjustable disgorging system and with an obturator to avoid the wine loss.
The machine is made of stainless steel, the casting is made of quality stainless steel plate and we use a protection made of transparent polycarbonate for the upper part; This machine is distinguished by a reduced size and not much maintenance. The machine is manufactured so as to have a long life and to supply a regular work.
The machine is equipped to work with standard bottle (0,75cl). Equipments for 0,375 l, 1,5 l and special shaped bottle can be provided.
DR 8 :
Output : To 2 500 Bottles/Hour
Electronic speed variation
Dimensions : Depth. :1250mm,Width. :1200mm
Power of engine : 0,37 KW triphasé
220/380 V 50H
Height : 950 m +/- 50mm
Weight : 420 Kg
DR 12 :
Output : To 4 500 Bottles/Hour
Electronic speed variation
Dimensions : Depth. :1450mm,Width. :1400mm
Power of engine : 0,37 KW triphasé
220/380 V 50HZ
Height : 950 m +/- 50mm
Weight : 580 Kg