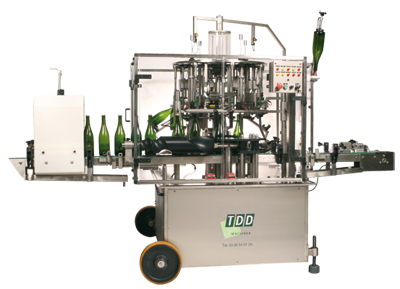 Rotary disgorging-dosing
machine type DDR44
Bottles are selected by a screw and introduced in the rotary tournament.
First rotation Disgorging : Bottles are taken (grabed) by the neck and are leaded in order to reach an inclined position.
Every bottle holder is equipped with an adjustable disgorging system and with an obturator to avoid the wine loss.
Second rotation : Emptying process to 6 cl (bottles upright)
Third rotation : Dosage process. The bottle is closed and inclined (60°). Dosage to 6 cl.
Dosage control up and down.
Fourth rotation : Filling up process (bottles upright). Feeding of wine with an adjustable small pneumatic pump in order to have a good refilling.
The machine is made of stainless steel, the casing is made of quality stainless steel plate and we use a protection made of transparent polycarbonate for the upper part ; This machine is distinguished by a reduced size and not much maintenance. The machine is manufactured so as to have a long life and to supply a regular work.
The machine is equipped to work with standard bottle (0.75 l).
Equipments for 0.375l, 1.5l and special shaped bottle can be provided.
Output DDR44: To 1500 B/Hour
Electronic speed variation
Power of the engine: 0,55 KW triphasé
Dimensions : Depth 1630 mm +/- 1600mm
Weight : 550 kg