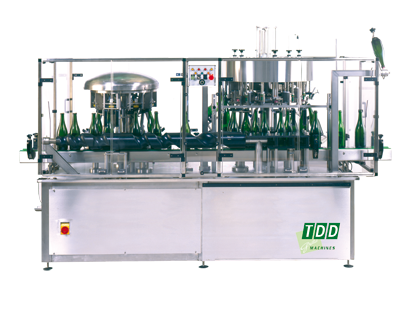 Automatic rotary disgorging-
dosing machine type CDD 8X36
This machine is totally made of stainless steal. The working direction : only from left to the right
Bottles are guided to the disgorging post (8 stations) with an endless screw. Every bottle holder is equipped with an adjustable disgorging blade and an obturator in order to avoid the wine loss. The obturator can go down more or less quickly after the disgorging process in order to fit to the wine reactions.
A crown-cork and "Bidule" detector is placed between the disgorging and the dosage station. This detector can stop the machine if necessary.
The machine is equipped with a dose control system.
The dosage station is composed of :
6 emptying spouts (6cl maximum)
6 dosage spouts (6cl maximum)
6 refilling spouts
A "pressostat" (to measure the pressure) stops the machine automatically if there isn't enough pressure in the liquor circuit.
Output maxi : 2 000 Bl/h according to the dosage volume and the wine reactions.
Motor : 0,75 Kw
Dimensions : Lenght. : 2600 mm / Width. : 1550 mm Weight : 950 Kgs