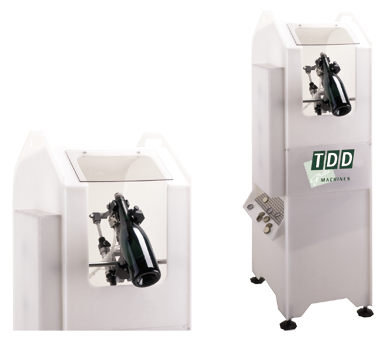 Disgorging machine type DLV 1
The disgorging unit is composed of polyéthylène in order to make easier the maintenance and the cleaning. The disgorging arm is made of stainless steel. The process of the machine is totally pneumatic..
The operator puts the bottle, inclined and head down, in the disgorging arm which is equipped with a pneumatic detector.The detector starts the process of the machine. The bottle gets up and is ready for the disgorging. The time of the disgorging action is very precise.
  Then, an obturator closes the bottle in order to avoid to loose too much wine.
4 adjustments are possible:
1) Adjustment of the disgorging time.
2) Adjustment of the obturator speed after the disgorging action.
3) Adjustment of the time when the obturator closes the bottle in order to avoid the wine lost.­­
4) Adjustment of the bottle inclination speed, just before the disgorging action.
Pressure : 6 bars
Air consumption: 4 m3/h